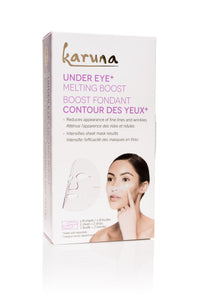 Karuna
UNDER EYE+ Melting Boost
Regular price 正價
HK$170.00
HK$93.50
UNDER EYE+ Melting Boost (重點減紋去皺滲透護理膜)
Karuna重點極速滲透護理膜隆重登場
Mask+ Melting Boost=Results x 2
重點極速滲透護理膜加上片裝面膜,精華融化注入肌膚,一次過享有雙重療程功效,令修護效果加倍提升
皮膚類型: 特別適合已出現幼紋,乾紋及皺紋及表情紋、眼部週圍肌膚
產品特點 : 獨特設計,內含八片包裝,每一片包裝內有四小片重點減紋去
皺滲透護理膜,可重點放在已出現幼紋,乾紋及皺紋問題的肌膚,包括面
部虎紋,額頭及眼,手部、腳部位置
產品功效:產品結合了天然和創新科學的理念,除含有KARUNA 獨特的Beauty
Complex美容配方外,當中更蘊含甘油, 可作保濕、滋潤肌膚 功效;黃芩根
萃取物,可鎮靜、抗菌Mask
+ Melting Boost = Results x2™

Reduces the appearance of fine lines and wrinkles around eyes

Intensify your sheet mask results

face mask sold separately
Melting Boosts bake ingredients into a film to lock in freshness.
The benefits are activated when dissolved under a Karuna Face Mask.
Paraben Free
Dye Free
Silicone Free
Gluten Free
Mineral Oil Free
8 sheets per box
1 sheet = 4 boosts
*mask sold separately
How to Use
*Boosts must be used under a Karuna face mask
*Keep out of reach of children. If skin sensitivity occurs while using the sheet mask, stop using it and immediately rinse skin with water.
---
More from this collection 更多相闗產品